STUCK WITH A SAFE THAT YOU CANNOT OPEN? WE CAN OPEN ALMOST ANY SAFE.
We have a great experience in opening all kind of different safes and vaults.

We alway try to open a safe non destructive if possible, which requires a great variety of specialized tools and skills. Most of the antique and also modern safe locks can be opened non destructive. Only the correct tools and the deep knowledge about safe locks and locking systems allows us in connection with our huge database to solve almost any lock related problem.
We open your safe with the minimum damage possible.
We always open safes in the most effective and professional way possible related to the needs of our customers. If we have to use a drill, we always try to do the minimum possible damage, so that your safe can be easily repared afterwards.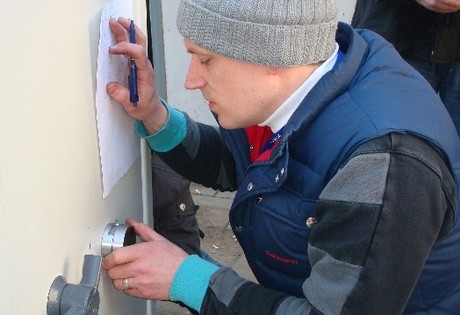 Manipulating a combination lock
We know all about safes, so we know how to open them best.
In the many years of opening safes we were able to open all different safes to our customers requests so far. It does not matter if it is a cheap safe cabinet or a big vault door - we can solve your problem.
There are many reasons why a safe has to be opened - don´t hesitate to give us a call.
Every opening requires a different approach - so far we were able to solve them all. Please do not hesitate to talk to us we are happy to make you an offer. Most of the times a picture of the safe is better than any explanation on the telephone. If possible please send pictures by
email
to give us a first impression. Of course all project related informations stay in house and are treated confidential.
We open your safe anywhere you want.
Most of the times we can make a fixed price, so that you do not have to care about hidden costs and astronomical bills. If there will be unexpected costs we confer with you how to proceed. We always try to do everything cost effective related to the needs of our customers. We are also able to do safe openings abroad. Many of our customers have been in foreign countries. Don´t hesitate to ask for an offer.