WE DELIVER ANY KEY YOU NEED !
STUV, MAUER, CAWI, Kromer Novum, Kromer Protector, Bramah, Bramah-Chubb, Chubb, Juwel, Burg Wächter, Secu, FAS, Fichet, Lowe & Fletcher and others.
We deliver keys in different lengths, also folding keys and lafetten keys in different variatons. We can also deliver profile cylinders and their keys from various manufacturers, such as dimple lock keys, tubular keys or similar. Do not hesitate to ask us. If you are in need of replacement keys you can call us any time. We can supply keys for most of the manufacturers on the market. Please call for prices.
Replacement lock - we can change your locks any time.
Many times the replacement of the lock with factory cut keys is cheaper than making new keys. We are able to make keys for locks where no keys are available. In case of the loss of a key we are able to change the levers inside the lock and make a new key for the new configuration. The lost key will not operate the lock anymore in case somebody tries to use it on the altered lock.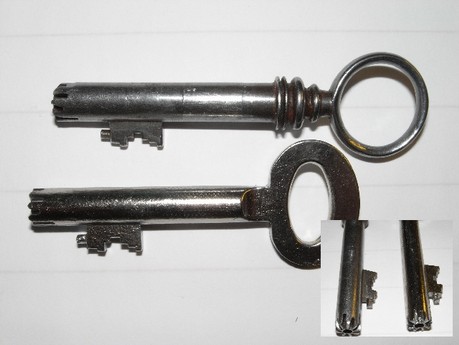 Bramah-Chubb key with 9 radial cuts and 6 levers
Replacement keys for unusual or out of production safes.
We are able to make unusual, antique or no longer manufactured keys. Do not hesitate to ask for your key copy. If you are not sure, please send a picture of your key and we make you an offer.
Please keep in mind, that we can only guarantee working keys if we have the lock in our workshop during the keymaking.
Small repairs are included.
In general we clean the locks we have to open and also repair small damages as for example a broken lever spring or a loose center bolt.