WE REPAIR EVERY SAFE NO MATTER IF IT IS OLD OR NEW !
Safe repair
Burglar attempt, wear, or other technical problems - we are able to help you out immediately and uncomplicated with most safe problems. Most of the repairs are done on site to ensure the troublefree operation of your safe. If we cannot do the repairs at once, we take the necessary parts to our workshop and do the repairs as fast as possible to keep the maintenance downtime as short as possible.
Repair on site or in our own workshop.
If necessary we transport the whole safe to our workshop and do the required works there.
Big spare part storage - constant availability.
Most of the replacement parts are in stock - if not we are able to organize them as fast as possible. We are available 24/7, please call any time.
If the repairs take longer than expected we are able to supply you a rental safe for that time period to cover the maintenance downtime.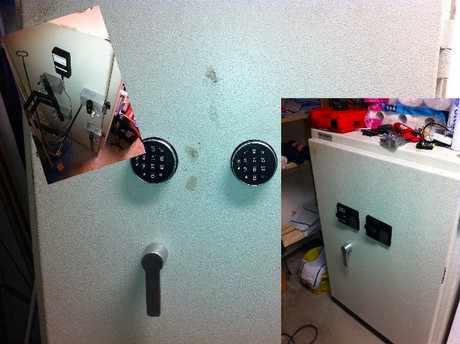 Repair and modification of a 2 tons Vds.Kl.IV safe on site, after drilling